Let us look at the facts:

With 4 billion mobile phone users this communication tool is exploding! Over 3 million are sending and receiving text messages. In fact more people are browsing the Internet and getting their news updates from their mobile phone then ever before. People use their phones not only to call and text but also to access the social media platforms, seek directions and find information. 50% of Twitter users log on via their phone while a third of Facebook users with interact through their mobile device and 3 out of 5 searches are now done via a mobile device.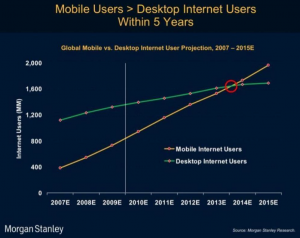 In the slide above by Morgan Stanley we see the prediction that Mobile users will overtake Desktop Internet users by 2014 - 2015.
Many people use their mobile phone shop or get an opinion about something they plan to buy and it is now standard practice for most to use their phone while watching TV or even in bed. Our mobile phone is not just an accessory it is part of everything we do in our daily life.
These are stats that every digital marketer should be aware of. Considering most emails have a less than 15% open rate and nearly 97% of text messages are read – within 10 minutes of sending – it is not rocket science to figure out that mobile marketing has become a very important means to reach existing and potential customers.

However even from the early days of mobile there have been many fears surrounding the new technology. Most of it has to do with a lack of understanding at how things work in mobile and this results in people usually choosing to avoid the media.
This post will attempt to answer some of the myths and shed some light on this exciting new industry that New York Times branded 'The most powerful media ever invented'

Now let us tackle some of those myths:

Mobile Marketing is all about Apps – Not true. Although having a mobile app can sometimes help your company, you do not need a mobile app to send SMS message or to have a mobile optimized website. What you need is the desire to promote your product or company using the best media available.

Mobile Marketing is expensive – Not true. With the right people to support your mobile marketing initiatives it can be a lot cheaper than some traditional forms of marketing. There are free QR code generators online and you can begin your small mobile marketing strategy by linking traditional marketing with mobile.

Mobile Marketing is only for 'big' players - Not true – Many entrepreneurs and new companies are successfully using mobile marketing to reach their audience.

Mobile Marketing does not gather as much information – Not True – People will respond to QR codes and SMS short codes with their email if you have something that you are willing to offer as a gift or at a discount.


Don't miss out on the mobile opportunity. Seek new and innovative ways to engage with your target audience!